Supermarine Spitfire news archive
Spitfire's in the news and media - Spitfires still making news!
On this page...
Return to the Spitfire home page
---
Call to commemorate Darwen Spitfire
[November 3 2008]
According to For Darwen councillor Tony Melia, the Spitfire purchased by townspeople in 1941 should feature on public art or plaque.

Article: This is Lancashire
---
Appeal over lost Eglinton Spitfire
[October 31 2008]
Two archaeologists have embarked on a quest to find a Spitfire that crashed near Eglinton during World War II. The team has appealed for information on the fighter plane which came down in the grounds of RAF Eglinton Airfield almost 67 years ago. Aviation archaeologists Gareth Jones and Steve Vizard have been tracing the history of the pilots of the Welsh Operational training unit. Mr Jones appealed for any help the Derry public may have on the "mystery" of the missing plane. He said: "We know it's a long shot as we are asking for the locals to try and cast their memory back almost 67 years."

Article: Derry Journal
---
The nation's sweetheart
[October 28 2008]
When it comes to British icons, few pull the patriotic heartstrings as much as the Spitfire, perhaps the most famous aircraft of all time. With its sleek silhouette and fearsome fighting power, the Spitfire not only played a pivotal role in the Second World War, but became a symbol of hope, courage and freedom for the people who lived through those uncertain years.

Article: Emma HigginBotham Cambridge-news.co.uk
---
Replica Spitfire swoops into Kippax
[October 23 2008]
A replica Spitfire swooped into Kippax to mark the 80th anniversary of the village's Royal British Legion.
Hundreds of residents flocked to the celebration which included a children's party, charity auction, wooden gun drill re-enactment and 1940s cabaret night at one of the country's oldest RBL branches.

Read more: Pontefract and Castleford Express, UK, October 23 2008
---
Charley Fox - Spitfire pilot credited with wounding Rommel in Normandy, dies aged 88
[October 20 2008]
The Canadian Spitfire pilot credited with seriously wounding German Field Marshal Erwin Rommel in a strafing attack in the critical weeks after D-Day has died. Charley Fox was 88. The much decorated flyer from London, Ontario, was killed in a weekend automobile crash near Tillsonburg, Ont. It took years before Fox was cited for the attack on Rommel as there were counterclaims by the Americans that one of their aircraft was responsible, and a South African pilot is also thought to have carried out the attack.
Charley Fox came home from world war two with a distinguished air combat record, flying 222 operational missions and earning two Distinguished Flying Crosses.

References: National Post, Canada - October 22, 2008 | Calgary Herald, Canada - October 20, 2008 | Winnipeg Sun, Canada - November 03, 2008 |
---
Restoration of rare two-seat Spitfire Tr.9 completed
[October 20 2008]
Last week, the number of airworthy Spitfires grew... as a rare two-seat Tr.9 variant took to the skies for its first time following a lengthy restoration.
SM520 has been restored by Classic Aero Engineering Ltd. (CAE) at Thruxton
The Spitfire TR9 G-ILDA was built by Vickers Armstrong in 1944. It was an AH Mark 9, delivered to 33MU on the 23rd Oct 1944. Its serial number was SM 520. SM 520 was sold to the South African Air Force in 1948 (its SAAF history is unknown). It was discovered in a scrap yard in Cape Town in the 1970s, and purchased by Charles Church. Mr Church started to restore SM520. When he died in 1989, it was sold to Alan Dunkerley, who resold it to Paul Portelli in June 2002.
Classic Aero Engineering Ltd. (CAE) was contracted to restore SM 520 to its original Vickers specification.

References: ClassicAeroThruxton - October 2008 | Aero-News.net |
---
Longnose: the Merlin gets new life in a young thoroughbred
[October 18 2008]
Able to produce a staggering 1,500bhp, a new thoroughbred has emerged from the Bell Aurens stable, where a Merlin engine has been mated with a Land Rover.

Briton Mr Bell and German Mr Kalvelage came up with the idea after meeting on an online forum, and they immediately set about combining their two loves - the classic British roadster and the Land Rover. The result is the 15ft long, six feet wide Longnose, which Mr Bell, 33, and Mr Kalvelage, 46, describe as being 'full of character, authoritative and stylish'. Add the classic Rolls-Royce Merlin engine, and you have a unique and unsurpassed thoroughbed machine.
See it at the Bell-Aurens (BA) website

References: The Daily Mail | digiads.com.au | worldcarfans.com | digiads.com.au
---
Spitfire ace's role shared in TV series
[October 11 2008]
He's celebrated now as a Spitfire ace, one of the valiant defenders of the tiny, but strategically crucial, island of Malta. In 1941-'42, as a Canadian serving with the Royal Air Force, he shot down seven German aircraft and damaged many others, but some 20 years after the end of the Second World War, White Rock resident Ian Maclennan wouldn't even talk about his experiences and resisted invitations to attend pilot reunions, until encouraged by the late British ace Johnnie Johnson.

Read the full article: Peace Arch News
---
[buckinghamshireadvertiser.co.uk - Oct 10 2008]
A pilot who flew Spitfires during the Second World War was taken up and away again in order to celebrate his 92nd birthday.
Bill Sanders, who now lives in a care home in Bromley, was flown by helicopter from Denham Aerodrome to the RAF Museum in London. He and his wife Mabel, 96, were flown by pilot Dave Vasey from the aerodrome in Tilehouse Way, to view Spitfires at the museum like the ones he used to fly in daylight raids over Europe.
Before he took off, Bill said: "This is such a dream come true, I really can't believe it. It will be good to be up in the skies again and to see the beautiful Spitfires on display at the museum. It really will be the trip of a lifetime."
---
How Southampton's giant Spitfire memorial will look
[September 29-30 2008]
Soaring 160ft into the city skyline and with a wingspan of 110ft - three times the size of the legendary fighter plane - the memorial is set to become an internationally recognised landmark.
A location for the towering monument remains a secret, however negotiations with a landowner are at an advanced stage.
Designed by renowned British sculptor Kenneth Potts, the wire-mesh styled Spitfire will be held aloft by three enormous pylons.
Swooping in the sky, the distinctive shape that made the Second World War aircraft instantly recognisable will be visible from vantage points across the city.
At night, lights projected onto the stainless steel sculpture will illuminate it in its numerous battle camouflages.

References: Daily Echo - 29 Sep 2008 | Daily Echo - 30 Sep 2008 |
---

[bonhamsandgoodman.com.au - 14 Sep 2008]

The Spitfire is the ultimate WWII fighter aircraft and its battles with the Messerschmitt 109s during the war combined with its easily recognizable wing shape and distinctive engine note (courtesy of, in most cases, a Rolls-Royce Merlin engine) earned it a legendary status during the Battle of Britain, a reputation that still stands today. It is believed that there are around 44 airworthy Spitfires surviving to this day although a number of air museums have examples on static display.
This historical aircraft (RAF Serial No. TE 330) was constructed at the Castle Bromwich works in late April 1945 and was accepted by RAF Cosford. After seeing active service with the RAF it was flown in the 1957 Battle of Britain Memorial flight before being donated to the United States Air Force (USAF) in 1959. It was displayed at the USAF academy in Colorado Springs until around 1997 when the Aircraft found its way to New Zealand via the Hong Kong based businessman James Slade. In 1997 an ongoing restoration of the aircraft was begun and in 1999 it was purchased by the vendor, who continued to restore the aircraft to its current near complete condition.
Related news articles:
---

[New York Times - 12 May, 2008]

Diana Barnato Walker, Acclaimed Pilot, Dies at 90
Diana Barnato Walker, an heiress to a South African diamond mining fortune who took up flying in the 1930s and became a celebrated aviator as one of a group of women who delivered new fighters and bombers to combat squadrons in World War II, died on April 28. She was 90.
Mrs. Walker alone delivered 260 Spitfires during her four years in uniform, according to wartime records. In one month, September 1944, she delivered 33 aircraft of 14 types.
Mrs. Walker, who survived many brushes with death, wrote in her 1994 autobiography, 'Spreading My Wings' that she owed her survival to a 'guardian angel'. Twice the unarmed planes she was flying came were attacked by German aircraft, and she emerged uninjured.
---

[Times Online - 20 Feb, 2008]
A Bosnian town has appealed for help in stopping looters from stripping the remains of a British Spitfire that was discovered this week more than six decades after it crashed in a marsh. The looting began after reports in The Times that the Spitfire had been found, 65 years after it was shot down by pro-Nazi Croatian forces.
---

[Times Online - Febuary 16, 2008]

An elderly Bosnian villager has claimed to have rediscovered a Second World War Spitfire that he saw shot down by pro-Nazi Croat forces 65 years ago. I knew it was there all these years because I saw when Ustashe soldiers shot it down in 1943, Cazim Dautbegovic, a 74-year-old resident of Sarvani village in central Bosnia, said. The pilot parachuted out of the plane and was rescued by partisans, he added, referring to the communist-led Yugoslav forces who fought Germans and their local allies.
---

[Telegraph.co.uk - November 15, 2007]

Tom Fort reviews Spitfire: Portrait of a Legend by Leo McKinstry
The little plane that could
---

[BBC - September 28, 2007]

Aviation enthusiasts in Pembrokeshire are racing against the clock to raise funds to buy a World War II Spitfire. They are £65,000 short of the £150,000 needed, and have until Sunday morning to find the rest of the money. When fully restored, they hope the plane will take pride of place in a museum they are planning at Withybush Aerodrome just outside Haverfordwest.
---

[ABC.com.au - April 17, 2007]

This Spitfire has been painted in the same colours as the one flown by WWII hero Bobby Gibbes. (Temora Aviation Museum/Philip Makanna). The funeral for World War II fighter pilot Bobby Gibbes has been held in North Sydney. The 90-year-old died in a Sydney hospital last week after a stroke. Mr Gibbes was farewelled by hundreds of people at a ceremony at St Thomas' Anglican Church this afternoon. He fought for Australia in 1941 on the Syrian campaign, taking part in an attack against the Vichy French Air Force Base at Rayak.
---
Alexander Adolphus Dumfries Henshaw MBE (7 November 1912 - 24 February 2007)

[24 Feb 2007]
Alex Henshaw passed away at home on Saturday February 24th 2007 aged 94. He was one of the great aviation pioneers, air race master, and with a record-breaking trip from the UK to Cape Town and back. Alex was renowned as the chief test pilot for Vickers-Armstrong at the Castle Bromwich aircraft factory, and a master display pilot of the immortal Spitfire.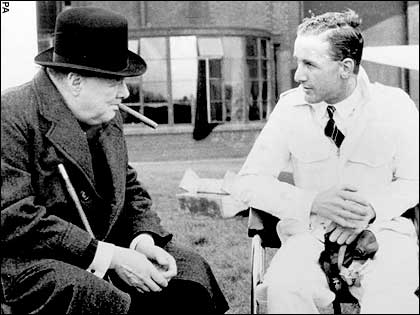 Henshaw chatting with prime minister Winston Churchill about the Spitfire.
Henshaw volunteered for service with the RAF during World War II, but instead became a test pilot for Vickers Armstrong. He starting with Wellingtons and Walruses at Weybridge. He did not enjoy the work, and was on the point of leaving when Jeffrey Quill invited him to test Spitfires in Southampton.
In June 1940, he moved to the Castle Bromwich aeroplane factory in Birmingham, taken over by Vickers after poor production results by the Nuffield group. He was soon chief test pilot. The factory built over half of the total output of Spitfires ever made, and 350 Lancaster heavy bombers. Henshaw tested both, leading team of 25 others. The job was essential, to ensure that faults were detected before aircraft were delivered to the font line, but was also dangerous: two of his team were killed testing new aircraft. Henshaw survived many forced landings, and a catastrophic crash between two houses in Willenhall in July 1942 which destroyed the aircraft.
It is estimated that Henshaw flew 10% of all Spitfires and Seafires, testing up to 20 aircraft a day in often foggy conditions. He would also demonstrate the Spitfire to visiting dignitaries, such as Winston Churchill, and once flying the length of Broad Street in Birmingham at low level. He was the only pilot known to perform a barrel roll in a Lancaster bomber, a feat that was considered reckless and impossible due to the aircraft's size and relatively low speed. He was awarded the MBE for his wartime service.
More:
Alex Henshaw: Spitfire test pilot who before the war established a world record for the flight to Cape Town
---
[Times Online - September 16 2006]
Tributes were paid last night after the death of Raymond Baxter, the first presenter of the BBC show Tomorrow's World, who was also the commentary voice for many state and sporting occasions. Mr Baxter, who flew Spitfires during the Second World War, died yesterday morning aged 84, on the 66th anniversary of the Battle of Britain.

References: TimesOnline.co.uk
---

[Sydney Morning Herald - 16 September, 2006]

Thanks to its benefactor and president David Lowy, son of shopping centre billionaire Frank Lowy, the Temora Aviation Museum recently acquired its second Spitfire from New Zealand. Nobody is revealing the price, but airworthy Spitfires don't come for less than $2 million. The Mark XVI - which saw service with the RAAF in the closing weeks of World War II - will make its public flying debut at the museum today in the presence of the Prime Minister, John Howard. Mr Lowy founded the museum in 1999 at the Temora Aerodrome, where more than 2000 pilots were trained during World War II using Tiger Moths. The museum specialises in Australian military aircraft and Mr Lowy bought a Mark VIII Spitfire in 2000. It was the last Spitfire acquired by the RAAF, but never saw active duty. The Mark XVI also "belongs in Australia", Mr Lowy said. "It's part of our history. It's home.
---

[Yorkshire Evening Post - 15 August, 2006]

A former fighter pilot, captured and interrogated by the Gestapo, has been reunited with fellow flyers. Spitfire Mark II pilot Jimmy Taylor, 84, of Chapel Allerton in Leeds, said his survival was down to sheer luck as he told his story at a Yorkshire air base. In 1944 he had been flying with No 16 Squadron over Germany when his engine failed. He was forced to land in occupied Holland. The German police believed the Resistance was sheltering him and executed families, demanding he be handed over. In fact, Mr Taylor spent his first night swimming in a cold canal while German guards patrolled nearby. Later he found potatoes and made a fire out of twigs and straw. After five days on the run Mr Taylor got within eight miles of Allied territory when a guard seized him and handed him over to the Gestapo. He said: "I lied to them about which squadron I was with and when I got to the prison camp I was scared every time there was a knock on the door. I had cheated on the Gestapo."
---

[BBC - 12 Aug, 2006]

A World War II Spitfire, Hurricane and Lancaster bomber due to fly over the White Cliffs of Dover have been grounded because of high winds. The Battle of Britain memorial flypast on Saturday was to be part of a weekend of events for Dover Regatta. The celebrations also mark the 400th anniversary of Dover Harbour Board. A harbour board spokeswoman said weather conditions at Kent's Manston airport, where the planes are based, had forced the flypast to be cancelled. It was hoped it could take place on Sunday instead.
---

[Northamptonshire - 12 August, 2006]

Harry Griffiths started out as a laboratory assistant at Supermarine in 1928 (later Vickers Supermarine) and went on to work as part of R.J. Mitchell's design team on the prototype Spitfire K5054 during the 1930s. He retired from Supermarine in 1961 after a distinguished career in the metallurgical field.
---

[WhitbyToday.co.uk - 7 August 2006] Update 2008 - redirect to whitbygazette.co.uk


A Spitfire pilot has returned to the skies to meet the new generation of daredevils. Ken Hurst, of Brigg-swath, hitched a lift in a Tiger Moth to visit RAF Linton-on-Ouse near York where he met other veteran Spitfire pilots and the new generation of aviators from his old unit no. 72 Squadron. It was the first time he had flown in a military plane since he left the RAF in 1973.
---

[Times Online - 2 June 2006]

'FEAR IS NOTHING'. What a motto! Calm, definitive, death-defying, perfect for a World Cup campaign and not bad for an RAF squadron either. It is, in fact, the motto for 501 Squadron, now part of the Royal Auxiliary Air Force, and one February morning in 1957 Flying Officer John Crossley took it rather literally. Screaming low over the southern fringes of Bristol at 450mph in a Vampire jet, Crossley lined himself up to squeeze under the Clifton Suspension Bridge. His aim was good and he got under the bridge in one piece. Then he smashed into the cliffs on the south side of the Avon Gorge and was killed instantly. I know this because they tell you all about it in a gleaming new visitor centre at the south end of the bridge. What they don't tell you, though, because they don't know, is what I'd gone there to find out. Is it true that about 15 years earlier, in the middle of the war, three Spitfires flew under the bridge in quick succession, the first one piloted by an heir to the then-modest Jordan's muesli fortune, the third by his good friend Ann Wood, early twenties, tall, blonde and recently arrived from Maine?
---

[BBC news - 21 April 2006]

A move to rename Southampton Airport in honour of the man who designed the Spitfire has received council support. R J Mitchell was chief designer for Supermarine and designed the World War II fighter plane in 1935, dying two years later from cancer, aged 42. At a meeting on Thursday, Eastleigh Borough Council members backed the idea to rename the airport R J Mitchell International Airport in his memory.
---

[BBC News - Saturday, 4 March 2006]

Thousands of people are expected to watch a re-enactment of the very first test flight of the Spitfire - 70 years after it first took to the skies. Five of the Southampton-built fighter planes will take off from the airport and fly in formation over the city.
Aboard one of them during Sunday's event will be 93-year-old Alex Henshaw, one of the original test pilots.
Some of the veterans who built the first Spitfire, in 1936, and who flew them will watch from Mayflower Park. Among them is expected to be Dr Gordon Mitchell, the son of Reginald Mitchell.
---
[Telegraph.co.uk - September 15 2005]
The forgotten hero of the Battle of Britain will be commemorated today at the beginning of a campaign to raise awareness of a man who did as much as any to keep Hitler at bay 65 years ago. R J Mitchell did not live to see his country threatened with invasion in 1940, but the aeroplane he designed did more than any other to defeat the Nazi assault on our skies.
---
[BBC news, Devon - Wednesday, 29 June, 2005]
The spirit of the Battle of Britain is being kept alive in Devon. Only about 12 of the original Spitfires from World War II are still flying in this country. Now businessman Martin Phillips, 45, is in the middle of a five-year £700,000 project to get another one off the ground. The Spitfire - to be called City of Exeter - will hopefully be heading into the skies in two years' time and Mr Phillips is seeking sponsorship. The mission began when friends challenged him to fulfil a dream. Thousands of spare parts, cannibalised from other Spitfires around the world, now line the walls of Mr Phillips' workshop in Langford, east Devon. In a huge shed is the fuselage of 1944-built Spitfire RR232 which he found in Worthing.
---
[Telegraph.co.uk - 24 March 2005]
One of Britain's finest pilots took to the skies above East Anglia yesterday in a Spitfire he last flew more than 60 years ago. Alex Henshaw, 92, was the chief test pilot at Castle Bromwich, near Birmingham, the largest factory producing Spitfires and Lancaster bombers during the Second World War, and was responsible for taking hundreds of aircraft into the air. Yesterday he was once more at the controls of a Mark IV Spitfire, lovingly rebuilt after surviving the war only to crash 55 years later.
---
[BBC news, Dorset - 5 March 2004]
A long-awaited memorial sculpture to mark the anniversary of the Spitfire was finally unveiled on Friday. The sculpture near Southampton International Airport was revealed 68 years to the day that its prototype model first flew on 5 March 1936.
The original airplanes flew out of what was then Eastleigh Aerodrome for tests.
On Friday, a Spitfire made a fly-past to celebrate the unveiling of the £70,000 artwork by Alan Manning, which has long been campaigned for by locals.
Mr Manning had to build a machine especially to create the curved panels which make up the original K5054 Spitfire.
If the above link is not working, try here: text link
---
[BBC news, Essex - Friday, 27 February, 2004]
A fully restored World War II Spitfire has gone on the market for £1.35m. The plane is one of three, fully airworthy, Spitfires being offered for sale at the Historic Flying company based at Duxford near Cambridge. The other two are offer at £850,000 and £1.1m. Only around 30 airworthy Spitfires exist anywhere in the world so the sale is an historic event. Lee Proudfoot of Historic Flying said: "We have had a lot of interest in the planes, as we always do." He added: "We don't really have to advertise. Usually people just get to hear about the planes or we get interest through articles in the aviation press.
---
[Telegraph.co.uk - September 06 2003]
Yesterday Flight Sergeant Carmichael from Dundee, was laid to rest 60 years to the day after being shot down over Belgium in September 1943. A Roman Catholic priest conducted the funeral service at Coxyde Military Cemetery on the Flanders coast.
---
BBC AUDIO
Potteries historian Ray Johnson talks to BBC Radio Stoke's Janine Machin about the importance of the Spitfire.
Download here [Real Player required]
---
If you know of a news article that should be added to this page, please e-mail me the link. Please be patient as I do not check my mail often.
---
Return to the Spitfire home page
CSS Validate | XHTML Validate | Link Valet
This page was last updated on 25 October 2008
Email: webmaster [at] k5054.com [remove spaces]
The contents of this page are © K5054.com 1999-2008.
Reproduction of any copyright material from this site without permission is expressly forbidden.